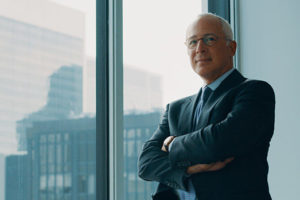 Breakfast on the Porch with Peter J. Solomon

Join us at Quail River Club for Breakfast on the Porch with Peter J. Solomon
Peter J. Solomon is chairman of Solomon Partners. One of the first independent investment banks, it provides advice on mergers, acquisitions, restructuring, recapitalizations and activism defense. Today, Solomon Partners is an independently operated affiliate of Natixis, a subsidiary of Groupe BPCE, the 2nd largest banking group in France.
From 1963 to 1977 and again from 1981 to 1989, Mr. Solomon was an investment banker with Lehman Brothers and its successor entities. He became a Managing Director of Lehman Brothers Incorporated in 1971 and a member of the Board of Directors in 1975.
Between 1978 and 1980, Mr. Solomon was Deputy Mayor for Economic Policy and Development under Edward I. Koch, Mayor of New York City, and was his principal advisor on taxes, NY City's ports, and issues relating to private sector development, employment and commerce. At the Mayor's request, he served as Chairman of New York's Health and Hospital Corporation, managing 17 municipal hospitals.
In 1980, Mr. Solomon was Counselor to the United States Treasury under President Jimmy Carter, responsible for the formalization of its Industrial Policy.
In 1981, Mr. Solomon returned to Lehman Brothers and remained at Lehman and its successor, Shearson Lehman, until 1989 when he left to form Peter J. Solomon Company.
Mr. Solomon was Chairman of Monro Muffler, headquartered in Rochester, NY, from 1984 to 2007 and remains a director.
He has served as a director of over 10 public companies, including Associated Dry Goods Corporation, Culbro Corporation, Edison Brothers Stores, Inc., Esquire, Inc., Handyman Corporation, Lawfin International Limited, LIN Broadcasting Corporation, Office Depot, Inc., Phillips-Van Heusen Corporation, The Miller-Wohl Company and The Stop & Shop Companies, Inc.
Mr. Solomon's not-for-profit activities include being a member of the Boards of Managers of Memorial Sloan-Kettering Cancer Center, Memorial Hospital for Cancer and Allied Diseases and Sloan-Kettering Institute for Cancer Research as well as a member of the Board of Overseers of Memorial Sloan-Kettering Cancer Center. Mr. Solomon is a trustee of the American Museum of Natural History, Chairman Emeritus and director of The Manhattan Theatre Club and a trustee of the Lucius N. Littauer Foundation. At Harvard University, Mr. Solomon is Chairman of the Friends of the Center for Jewish Studies.
He is a member of the Natixis International Advisory Network, the US Trust Bank of America Private Bank Advisory Committee and the Council on Foreign Relations. Mr. Solomon is on the executive council of No Labels, a bi-partisan action group committed to making progress for America. Mr. Solomon served as Co-Chairman of New York Governor Andrew M. Cuomo's Tax Reform and Fairness Commission. He also served on Governor Cuomo's Council of Economic and Fiscal Advisors and the Spending and Government Efficiency (SAGE) Commission.
Mr. Solomon served as an Overseer of Harvard University, Co-Chairman of Harvard's Technology and Education Planning Committee, Adjunct Professor at Columbia Business School, Chairman of the Hudson Guild Neighborhood House and Vice Chairman of the Mt. Sinai Hospital.
Mr. Solomon was born in New York City on September 17, 1938. He attended the Collegiate School, graduated from the Lawrenceville School in 1956, received a B.A. degree cum laude from Harvard College in 1960 where he majored in Government, and a Master's degree in Business Administration from Harvard Business School in 1963.
Mr. Solomon is married to the former Susan Rebell. They have five children and twelve grandchildren.
Discussion begins at 8am on Tuesday, March 15, 2022
There is no cost for attendance. A La Carte Breakfast can be purchased with cash, credit card or Quail Valley member account.
Click Here to RSVP - Limited Space Available